2019 Early Season
COMBINED DISCOUNTS OFFER
now through April 15, 2019:
Next-to-Last Column Pricing
PLUS Early Season Discount
PLUS Free Envelope Imprint on applicable items

OFFER VALID 2/1/19-4/15/19— absolutely no extensions.
Includes all items in categories designated *ESD*. All items listed on page 19 of our catalog are included.
CONDITIONS OF OFFER: Next‑To‑Last Column Pricing AND Early Season Discount (7% off item price) will apply, along with free black envelope imprint on items that normally include envelopes. Must order at least minimum quantity. Setup Charge EC005 of $52.31(D) will apply to all orders smaller than Last Column or Next‑to‑Last Column quantities; this includes repeat orders.
Contact us for DETAILS & PRICING (Distributors only): Sales@Ad-A-Day.com

___________________________________________________________
Commercial Mailings (AKA Business Mail or Bulk Mail): lists should be supplied at least 45 days prior to expected mailing date. NOTE: the USPS considers Business Mail a LOW PRIORITY. It is comparatively slower than First Class Mail, and delivery time is NOT guaranteed.
HOT for 2019-2020:
Promotional Products Purr-fect for Pet People
"Daily Thoughts" Day-By-Day Calendars
"Boogie Board" Flip-style Calendar/Organizer
"CEO" Full Color Large Format Desk Blotter
------------------------------------------------------------------
Start with any month: Digitally-printed Calendars and Planners can start with any month -- perfect for annual events and promotions. ORDER NOW for 2nd and 3rd Quarter 2019 Promotions!
Table Tents, Organizers and Booklets for year 'round use: Our tent, wall and desk styles make a great base for your project! Perfect for brochures; event or celebration keepsakes; safety, training or educational tools; food or beverage menus; point-of-purchase displays; special presentations. Contact us for ideas and details (distributors only).
PROUD TO BE GCPPA SUPPLIER OF THE YEAR! • SAGE A+ RATED
Featured Product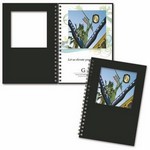 Wire Bound Window Journal (Large)
Wire bound journal with 4-1/4" die cut square or circle front cover window revealing full color inner cover (ask for template). Black lined-board outer covers. Includes black/grayscale printing on ins...
$8.16 - $14.97