Happy New Year!
Standard Pricing is in effect through 1/31/19
Forgot to order? We're still taking orders for 2019 calendars -- OR choose our split-year or start-any-month option! Estimated turnaround time is currently 20 business days while we finish up late holiday-season orders -- this may vary depending on the item, quantity and complexity of your order. We will give you our best estimated ship date when your proof is approved.
Commercial Mailings (AKA Business Mail or Bulk Mail): lists should be supplied at least 45 days prior to expected mailing date. NOTE: the USPS considers Business Mail a LOW PRIORITY. It is comparatively slower than First Class Mail, and delivery time is NOT guaranteed.
HOT for 2019-2020:
Promotional Products Purr-fect for Pet People
"Daily Thoughts" Day-By-Day Calendar
"Boogie Board" Flip-style Calendar/Organizer
"CEO" Full Color Large Format Desk Blotter
------------------------------------------------------------------
Start with any month: Digitally-printed Calendars and Planners can start with any month -- perfect for annual events and promotions. ORDER NOW for 1st and 2nd Quarter 2019 Promotions!
Table Tents, Organizers and Booklets for year 'round use: Our tent, wall and desk styles make a great base for your project! Perfect for brochures; event or celebration keepsakes; safety, training or educational tools; food or beverage menus; point-of-purchase displays; special presentations. Contact us for ideas and details (distributors only).
PROUD TO BE GCPPA SUPPLIER OF THE YEAR! • SAGE A+ RATED
Featured Product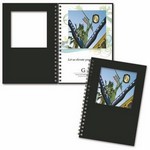 Wire Bound Window Journal (Large)
Wire bound journal with 4-1/4" die cut square or circle front cover window revealing full color inner cover (ask for template). Black lined-board outer covers. Includes black/grayscale printing on ins...
$8.16 - $14.97